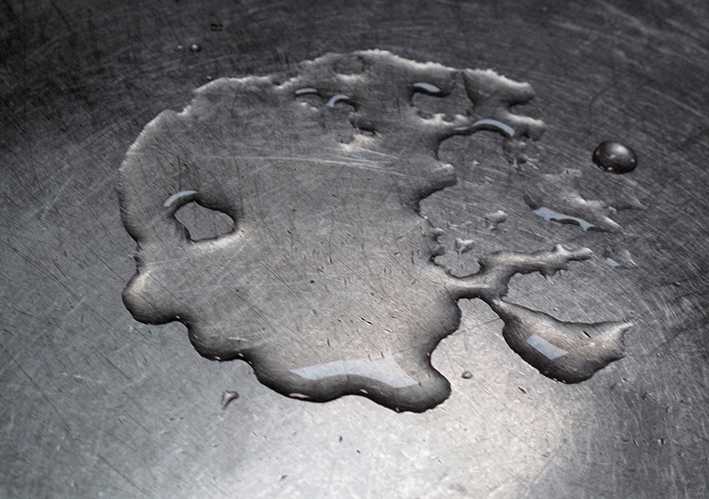 Selected works above (l. to r.) Made in Callan Street ident [Richens & Doherty 2016], Callan Street Early Evening [Denise Corrigan 2016], Magnetic Callan Street [Denise Corrigan 2016], New Earth (Magenta) [Mark Titmarsh 2015], Fragments of the past unearthed on the site of 44 Callan Street [Denise Corrigan/David Watson], Window [Jeannie Baker 1991], Iron Cove [Bruce Latimer 2004], Primary Nurse [artist unknown/found 2007], Blue Reflex [Ian Burn 1966], Dance at the Trocadero [Malleys 1939], May's daughters Wendy and Marilyn in Annie Oakley outfits she made for them [May Bartlett 1958], Copy of Goodman's Creek, Bacchus Marsh, Victoria by Louis Buvelot (1814-88) [May Bartlett 1991], Rozelle Winter Light [Michael Cowdroy 2012], '52 Displacements' No. 47 [Imants Tillers 1979-80], Blue Lady [Janne Marsh 1992], Found Self-Portrait on Sink [David Watson 2013], Hancock family get-together, backyard 36 Callan Street [1990s]
Made in Callan Street included contributions from Tony Amaral, Jeannie Baker, May Bartlett, Harry Bennetts, Avril Burn, Ian Burn, Marg Carter, W. A. Clarson, Denise Corrigan, Michael Cowdroy, Annabel Cullen, Brian Doherty, Ros Dunlop, Peggy Hancock, Bruce Latimer, Bob & Shirley McCullum, Michael McMillen, Janne Marsh, Keith Olson, Jane Richens, Imants Tillers, Mark Titmarsh, Michele Todhunter, Aladdin Watson, Luca Watson, David Watson. The exhibition formed part of LOST (Leichhardt Open Studio Trail, 12-13 March 2016).
Made in Callan Street
Mounted 'midst the industrial echoes of the A. E. Harding & Sons shopfittings works which became our home studio in 1991, Made in Callan Street [March 2016] featured artists, elders and industries with a lived connection to our street and its Iron Cove/Callan Park surrounds. The exhibition re-calibrated the idea of 'manufacturing' to include the urban making of art, music, film, poetry, electricity, cakes and children, reminding us of the term's original meaning ('making by hand'). Resuscitating local histories of woodturning, welding and fish-farming, the project celebrated the everyday marvels and layers of one quite-short, seemingly-nondescript street in Sydney's inner west. All that we gleaned – every object, image, artwork and strand of story – derived from lives, homes, gardens and gutters a stone's throw from our front doorstep.
Project research supported by a Leichhardt Council Local History Grant (2007-16). A fulsome catalogue of the show (with an introductory essay by Ann Finegan) is in the pipeline.